One of the questions 067 SCULPTURE gets asked a lot is... How do I protect my Statues from the elements? It's important to understand what we can do to help prolong the life of our statues, and keep them looking their best for years to come.
Luckily, the first thing you should understand is that the material used to create most of our Statues is by itself an extremely durable material, able to withstand all but the most harsh of environments. This means you usually shouldn't have to worry about temperature changes or heavy rains from a structural point of view.
Since Metal Sculpture often is a significant investment, you want the pieces to last for a long time. Choose from a variety of methods such as protective coverings, sealants or indoor storage to shield Metal Sculpture from damaging moisture, which results in rust. If you take care of your outdoor pieces, you can enjoy them for many years to come.
Look for Shelter
If you happen to live in an area where extreme heat or cold is an issue, we recommend placing your Statues in either partial shade, or off the ground where practical - to prevent possible cracking from expansion/contraction, however unlikely that may be.
Because the rain is not Metal Sculpture's best friend -- the moisture is a primary catalyst to rust -- it makes sense to protect the outdoor pieces from the elements. Build a structure in your backyard, such as a gazebo or covered deck, to shelter the metal pieces, or stash exposed metal yard furniture inside of a garage, basement or screened-in porch during the rainy months to protect the pieces from excessive moisture.
Give Them Some Clothes
If you can't move your Metal Sculpture to an indoor space during the rainy season, protect each piece with a weatherproof cover. Measure each piece of furniture for the right cover size. Many outdoor furniture covers are designed to fit. You also can cover with vinyl or canvas tarps and secure them with straps or rope. Place large rocks or bricks on the bottom of the tarps to stabilize them in windy conditions.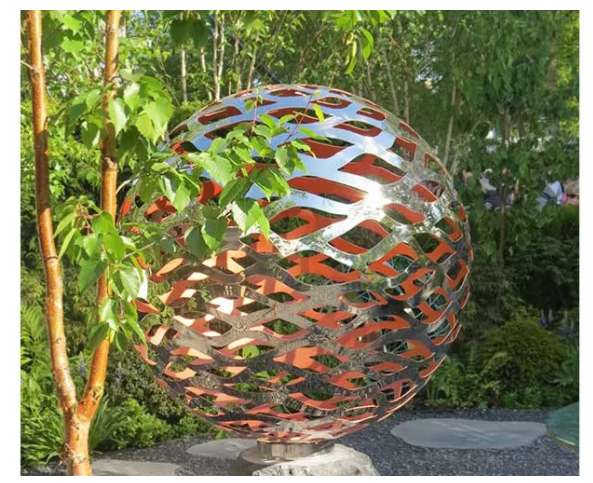 Get Rid of Grime
Some Metal Sculpture is covered with a rust-resistant protective coating. If the Metal Sculpture is not cleaned regularly, the accumulated grime -- dirt, human perspiration, suntan oils -- can eat away at the finish, leaving the Metal Sculpture exposed to moisture. Use a sponge dampened with a mild dish detergent and water to wipe down the Metal Sculpture; steer clear of abrasive soaps that can scratch and chip the finish.
Apply a Protective Coating
You can touch-up exposed metal blemishes on existing painted Metal Sculpture with a matching rust-resistant paint. Check your painted Metal Sculpture often. You also may spray a fresh coat of paint with a rust-resistant finish on the pieces to refresh them with a new color and an additional layer of protection.
It takes a little time to protect outdoor items from the elements, but the results are well worth the effort. Remember, if you have any questions about how to protect and preserve your garden art, reach out! We're here to help!