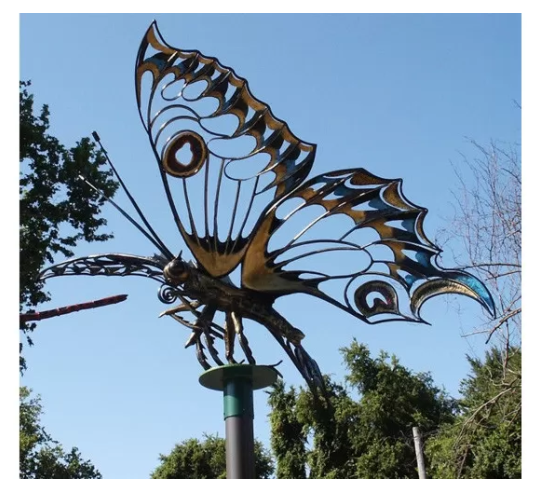 Adding sculpture to the garden is seen by many as a luxury. It's a nice-to-have addition that one might consider after the landscape design is complete and the budget has been reconciled.
The garden is already a work of art. A sculpture becomes part of that work of art and adds a unique individuality. It brings depth and takes the design to a completely new level.
Selecting functional sculptures
Those in agreeance readily add that their personalized piece of outdoor art is life-enhancing.
Creating a focal point
The sculpture creates a focal point and draws the eye to a particular area.
Using garden sculptures to establishing harmony
Creating a balance is essential. Aspects such as the character of the house and personality of the client need to be considered to ensure the artwork has meaning, respect and connection.
Selecting the right colors will determine the visibility of a piece. Bright hues are eye-catching, while natural shades provide gentle subtlety and seamless integration.
As well as complementing the structure of a home, surrounding vegetation must be considered too. Elements such as shape, size and the height of adjoining trees and plants all combine to create the broader picture. They evoke a sense of wholeness and unity: a place where accent art and feature pieces can nestle harmoniously and awaken tranquillity.
How to choose the right materials
Outdoor durability is a major consideration when selecting sculptural materials. Marble and bronze effigies of gods and heroes have survived thousands of years in the elements and deserve a continuing place in our landscapes for good reason.
These days, however, stainless steel has become a popular choice, chosen for its ability to reflect light and shadows. The transparency of glass is also interesting, as well as the natural and connected sensation of wood when incorporated into a design piece.
How much to invest
Deciding how much to spend is very personal and to a large extent, depends on the overall investment in the garden.
Alternatively, a skilled landscape architect can create a sculptural design using living elements, offering a more affordable option.
Selecting a piece you love
Everyone's taste is different and sculptural possibilities are infinite. Choosing the right piece for your garden is entirely personal. It can be a matter of finding the sculpture first and then creating the ideal space or designing a piece to fit your existing garden.
Whatever your tastes, 067 SCULPTURE readily encourages you to incorporate garden art and sculpture into your garden. 067 SCULPTURE love working alongside client to select or create a piece for your outdoor landscape. Whether it is placed in an open space, sits in a garden bed or is hidden where it will be discovered, it evokes magic that is enjoyed for years to come.