Gardens have always had a certain mystical and magical character. They mesmerize us with arrays of dazzling colors and aromatic smells and flavors, transforming themselves into wonderful sanctuaries ideal for meditation, relaxation and spending quality time with friends or in the company of a good book. Garden statues can be a part of this complex visual stimulation, adding a touch of sophistication or playfulness to the great outdoors.
The most important thing when working with garden statues is finding the right placement for them. In order to do that, it's important to take into consideration any existing trees, plants and shrubs.
Bushes and hedges add contrast to backyard
Bushes and hedges can complement a garden statue really well. Their soft lines can soften the rough edges of the statue or the opposite can be valid in some cases when the greenery follows clean geometric lines.
For the best effect if you want the statue to stand out and to take center stage in the garden, place it prominently, perhaps at the center of a floral arrangement or flower bed.
Statues can be used as complementary decorations
Statues can be used as complementary decorations for the flora and fauna of a garden. It can contrast with the bold colors of the flower beds and add a sophisticated touch to the overall décor.
Corner spaces are usually considered perfect for decorations such as a garden fountain or a large statue. As it turns out, our eye is naturally drawn to corners and since they are usually unused and empty, finding a beautiful decoration there can be a nice surprise.
Although large statues are great for creating a strong focal point or making a statement, you can also get a similar effect with a collection of small statues. Keep in mind that the dimensions of the statue should be dictated by the size of the garden.
Choose the statues in accordance to the dimensions
In a small garden, it's best to opt for small statues. A large garden or one that's very simple and nicely trimmed could use a bigger accent feature. Choose the statues in accordance to the dimensions and conditions on the site.
There are many different ways in which you can display a garden statue. For example, you can create frames in your landscaping to highlight these ornaments and to make them stand out more.
Front house entrance large statue
Place a garden statue beside an entrance to create a nice first impression to anyone who comes to visit you. The statue will look like a guardian of the entrance, making your home memorable to anyone visiting or passing by.
Swimming pool large statue
Ponds and swimming pools mix well with statues. You could, for example, place some small animal statues around the perimeter of a pond to create a more dynamic look for this whole area.
One of the most common mistakes when working with garden statues is choosing the wrong dimensions and creating uncomplimentary compositions. If you want to decorate a small area of your garden, a small statue should be your first choice.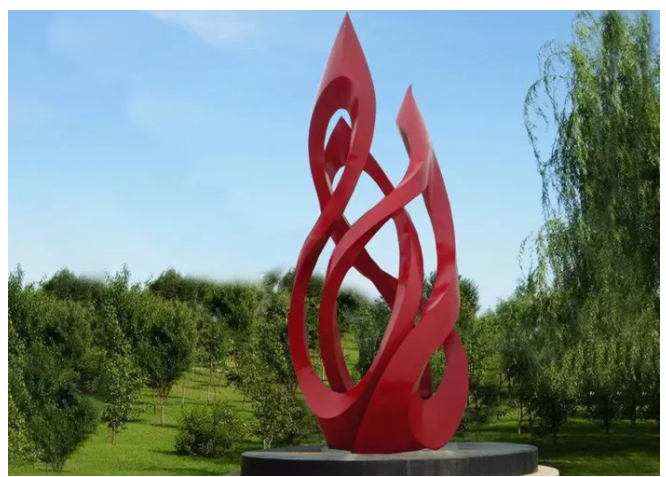 Creating a zen space in your garden
Small statues are also a good option when decorating a certain portion or a garden or yard that is somehow delimited from the garden as a whole. This lounge platform is a really good example of that.
Using too many statues is another common mistake. It's important not to overdecorate. you'll make the garden look cluttered and not at all as relaxing and inviting as you'd want it to be. A single statue or modest dimensions can be a great focal point if placed properly.
If you want to use a statue as a decoration for a pool or pond, take into consideration the size of the water feature before selecting the statue. A small pond with a waterfall could use a small statue although a larger one with a simple and abstract design could be a valid option.
Small balcony statue
In some cases, the bright colors of the plants and flowers contrast with the statues, especially those made of concrete or cement. You can take advantage of the situation and find the perfect balance between them.
There's usually no point in displaying garden statues if they can't be seen. So try to position them in relation to the view you have when looking out the window or the area visitors see when passing by or using the deck or outdoor lounge space.
To maintain the beauty of your garden statues for as long as possible, it's important to give them proper care. Painted statues should be kept in enclosed areas, protected from the elements.